Biscuit Baking Tunnel Oven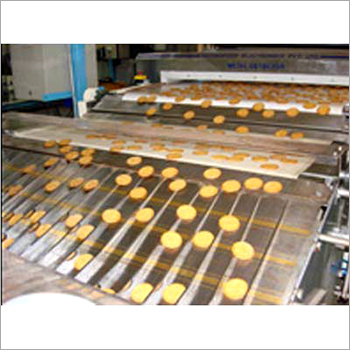 Biscuit Baking Tunnel Oven
Product Description
Driven by electricity, this Biscuit Baking Tunnel Oven has been developed by using finest grade stainless steel. As a growth oriented manufacturer and supplier, we are offering best quality product at lowest price range. This baking oven consists of steel made chain conveyor with carbon coated chain and stainless steel conveyor belt. The tunnel of this oven is designed with automatic temperature controlling system for uniform distribution of heat which is necessary for baking. The control panel is equipped with over temperature protection alarm system for avoiding hazardous condition during baking.
Biscuit Baking Tunnel Oven Specifications:
1. Capacity: 1000-2000 Kg
2. Machine Body Material: Mild Steel and Stainless Steel
3. Material: Mild steel and stainless steel
4. Automatic Grade: Yes
5. Baking Temperature: 200 - 350 Degree Celsius
6. Power: 18 Kilowatt
7. Power Source: Electric Heating, gas and diesel heating
8. Voltage: 220 - 380 V
9. Material Grade: SS 304
10. Frequency: 50 - 60 Hz
How Does Biscuit Baking Tunnel Oven Work?
A biscuit baking tunnel oven is a type of industrial oven specifically designed for baking biscuits and cookies in large quantities. It operates on the principle of convection and radiant heat transfer to ensure consistent and efficient baking of these baked goods. Here's how a typical biscuit baking tunnel oven works:
1. Preheating Zone: The oven is divided into different zones, and the first zone is the preheating zone. Here, the oven is heated to the desired baking temperature, which is usually around 150 to 200 degree centigrade, depending on the type of biscuit being baked.
2. Infeed Conveyor: Biscuit dough is loaded onto an infeed conveyor, which transports the dough pieces into the oven. The conveyor speed can be adjusted to control the baking time.
3. Radiant Heat: As the dough pieces enter the oven, they are exposed to radiant heat. Radiant heaters, often located above and below the conveyor, emit infrared radiation. This radiant heat quickly forms a crust on the surface of the dough, helping to set the shape and structure of the biscuits.
4. Convection Heat: The oven is equipped with powerful fans that circulate hot air throughout the baking chamber. This convection heat ensures even baking by distributing the heat evenly around the biscuits. The hot air penetrates the dough, causing it to rise and expand through the action of leavening agents like baking powder or baking soda.
5. Baking Zones: The oven is divided into multiple baking zones, each of which has its own set of radiant heaters and fans. The number of zones can be adjusted based on the specific baking requirements and the desired level of control over the baking process.
6. Color and Texture Development: As the dough travels through the oven, it continues to bake and develop its color and texture. The radiant heat helps in caramelization and browning of the biscuits' surfaces, contributing to the characteristic flavor and appearance of biscuits and cookies.
7. Cooling Zone: After the biscuits are sufficiently baked, they enter a cooling zone. In this area, the hot air circulation is reduced, and the biscuits gradually cool down while still on the conveyor. This helps to stabilize the structure of the baked goods and prevent overcooking.
8. Outfeed Conveyor: Once the biscuits have cooled down, they are transported out of the oven using an outfeed conveyor. From here, they can be directed to packaging or further processing.
FAQ:
1. What is a biscuit baking tunnel oven?
Ans: A biscuit baking tunnel oven is a specialized industrial oven used for baking biscuits, cookies, and similar baked goods on a large scale. It consists of a conveyor belt system that carries the unbaked dough through a tunnel-like oven chamber where it is exposed to controlled heat, resulting in fully baked products at the end of the process.
2. How does a biscuit baking tunnel oven work?
Ans: The oven works by utilizing a combination of radiant heat, convection, and sometimes infrared radiation. The unbaked dough is placed on a conveyor belt, which moves it through the oven chamber. The heat sources within the oven chamber ensure that the dough undergoes the necessary chemical reactions, leading to the browning and baking of the biscuits.
3. What are the advantages of using a tunnel oven for baking biscuits?
Ans: Here are few advantages of using this equipment:
a. Efficiency: Tunnel ovens are designed for large-scale production, allowing for a continuous baking process with high throughput.
b. Consistency: The controlled environment in the tunnel oven ensures uniform baking and product quality.
c. Space-saving: Tunnel ovens have a compact design compared to other industrial ovens, optimizing space in production facilities.
d. Labor-saving: The automated conveyor system reduces the need for manual intervention, saving on labor costs.
e. Energy-efficient: Many tunnel ovens are designed with energy-saving features, reducing operational costs.
4. Are tunnel ovens customizable for different biscuit recipes?
Ans: Yes, tunnel ovens can be customized to accommodate different biscuit recipes. They often have adjustable temperature zones and conveyor speeds, allowing for precise control over baking conditions. This flexibility enables bakers to achieve the desired texture, color, and taste for various biscuit types.
5. How do I maintain a biscuit baking tunnel oven?
Ans: Regular maintenance is crucial to ensure the oven's optimal performance. This includes cleaning the oven components, inspecting the conveyor belt for wear and tear, checking temperature and airflow settings, and addressing any mechanical issues promptly. It's recommended to follow the manufacturer's maintenance guidelines.
6. Can a tunnel oven be used for other baked goods?
Ans: While tunnel ovens are commonly associated with biscuits and cookies, they can also be used for other similar products like crackers, wafers, and even certain types of bread. The key factor is the compatibility of the baking process and temperature requirements with the oven's design.
7. What safety precautions should be taken when operating a tunnel oven?
Ans: Here are few safety precautions that need to been taken when using this equipment:
a. Training: Ensure that operators are properly trained in using the oven and understand safety protocols.
b. Protective Gear: Operators should wear appropriate protective clothing and gear, including heat-resistant gloves and eyewear.
c. Ventilation: Adequate ventilation in the baking area helps dissipate excess heat and fumes.
d. Emergency Procedures: Establish clear procedures for addressing any malfunction, overheating, or fire emergencies.
e. Regular Inspections: Regularly inspect electrical components, gas lines (if applicable), and safety systems.
8. How can I choose the right tunnel oven for my production needs?
Ans: When selecting a tunnel oven, consider factors such as your production volume, desired customization options, energy efficiency, available space, and budget. It's advisable to consult with oven manufacturers or industry experts to find the best fit for your specific requirements.