Biscuit Making Machine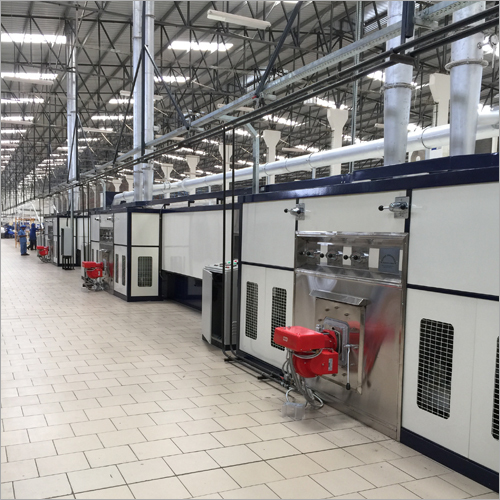 Biscuit Making Machine
Product Description
Our offered biscuits making machine is intended for making all types of biscuits. If one selects our machine, then can be assured of the reliable, continual performance without any error or downtime. Customers from all across the world are welcome to buy this machine to streamline the process, enhance productivity and maximize profit. Our representative will tell you in detail about the floor space, cost, functions, maintenance work and production capacity of this bakery machine. One can incorporate automated handling system with this machine to automatically feed dough into this machine. The biscuit making machine maintains consistency when it comes to the size, shape of the single type of biscuit produced in all batches. Click on the inquiry button and write to us about your requirement or any query regarding this machine.
How Does Biscuit Making Machine Work?
A biscuit making machine, otherwise called a treat making machine, is a piece of modern gear used to computerize the method involved with making biscuits or treats for a huge scope. These machines are generally utilized in business pastry kitchens and food creation offices. The course of how a biscuit making machine functions includes a few stages:
1. Batter Planning: The initial step is to set up the mixture combination. This includes blending fixings like flour, sugar, fats (like spread or margarine), eggs, raising specialists (like baking powder), and flavorings. The batter consistency and surface are essential for delivering the ideal sort of biscuits.
2. Batter Taking care of: The pre-arranged mixture is taken care of into the biscuit making machine's container or taking care of framework. This should be possible physically or through a robotized transport framework, contingent upon the machine's plan.
3. Sheeting: The batter is then gone through a bunch of rollers or sheeting components. These rollers straighten the mixture to a reliable thickness. The thickness settings can frequently be changed in view of the kind of biscuit being made.
4. Cutting: Subsequent to sheeting, the mixture goes through a cutting system. This system is outfitted with different molds or cutters that are intended to cut the mixture into the ideal shapes and sizes of biscuits. Various molds can be utilized to make different biscuit shapes.
5. Framing and Example Decorating (Discretionary): A few machines have extra highlights that can add examples or plans to the outer layer of the biscuits. This is much of the time found in biscuits with engraved examples or brand logos.
6. Baking: The cut and framed mixture pieces are then moved to a broiler for baking. Baking time and temperature change in light of the kind of biscuits being made. The stove guarantees that the biscuits are appropriately cooked and foster the ideal surface and flavor.
7. Cooling and Bundling: When prepared, the biscuits leave the stove and are permitted to cool on transport lines or racks. Subsequent to cooling, the biscuits can be coordinated to a bundling station. Here, they are bundled into different compartments, like boxes, sacks, or plate, prepared for circulation and deal.
8. Mechanization and Controls: Current biscuit making machines frequently include progressed computerization and control frameworks. These frameworks permit administrators to screen and change different boundaries like mixture consistency, sheeting thickness, cutting shapes, baking temperature, from there, the sky is the limit. Robotization keeps up with consistency in item quality and diminishes the possibilities of blunders.
Uses of Biscuit Making Machine:
Biscuit making machines have a great many applications in the food business, especially in business pastry kitchens and enormous scope food creation offices. These machines smooth out and computerize the biscuit creation process, bringing about expanded effectiveness, consistency in item quality, and higher creation volumes. Here are a few critical utilizations of biscuit making machines:
1. Business Pastry kitchens: Biscuit making machines are broadly utilized in business bread shops to deliver various biscuits and treats for a huge scope. These machines empower pastry kitchens to fulfill high need while keeping up with reliable item quality and limiting physical work.
2. Food Creation Offices: Biscuit making machines are utilized in food creation offices that have some expertise in assembling bundled biscuits for retail deal. These offices produce biscuits in mass amounts to be appropriated to supermarkets, grocery stores, and corner shops.
3. Nibble Producers: Biscuit making machines are utilized by nibble makers to create a scope of nibble items past customary biscuits, including saltines, wafers, and other heated products.
4. Altered Biscuit Creation: Some biscuit making machines are intended to deliver redid biscuits with explicit shapes, sizes, and examples. This is especially valuable for making oddity biscuits for unique events, occasional varieties, or special occasions.
5. Mass Catering and Neighborliness: Biscuit making machines are utilized in cooking administrations and cordiality ventures to create biscuits for occasions, meetings, and huge social events. These machines help in effectively creating an enormous amount of biscuits to serve countless individuals.
6. Commodity and Worldwide Business sectors: Biscuit making machines are utilized by producers who produce biscuits for product and global business sectors. These machines assist with guaranteeing a reliable item that satisfies quality guidelines and guidelines across various nations.
7. Confidential Name Assembling: Biscuit making machines are utilized by organizations that participate in confidential mark producing. These organizations produce biscuits for different brands, frequently with custom recipes and bundling.
8. Institutional Food Administration: Biscuit making machines can be found in institutional food administration settings like schools, medical clinics, and cafeterias. These machines help with delivering heated products for everyday dinners and tidbits.
9. Innovative work: Food organizations and examination establishments use biscuit making machines for item improvement and testing. They can try different things with various recipes, fixings, and baking procedures to make new and inventive biscuit items.
10. Proficiency Improvement: Biscuit making machines assist with further developing creation productivity by lessening physical work, limiting wastage, and upgrading the creation cycle. This permits makers to increase their tasks and satisfy market needs more successfully.
11. Different Item Reach: Some biscuit making machines are flexible and can be adjusted to create many items, from sweet to appetizing biscuits, with different flavors, surfaces, and fillings.
FAQ:
Q. What is a biscuit making machine?
Ans: A biscuit making machine is a piece of modern hardware used to computerize the most common way of delivering biscuits or treats for a huge scope. It includes different stages like mixture readiness, sheeting, cutting, baking, cooling, and bundling.
Q. What sorts of biscuits can be made utilizing these machines?
Ans: Biscuit making machines can create a wide assortment of biscuits, including plain biscuits, cream-filled biscuits, sandwich biscuits, wafer biscuits, saltines, and that's just the beginning. The kind of biscuit relies upon the recipe and the abilities of the machine.
Q. How does a biscuit making machine work?
Ans: A biscuit making machine works by taking arranged biscuit batter, straightening it to a steady thickness, cutting it into wanted shapes, baking the cut pieces in a stove, cooling them, and afterward bundling the completed biscuits. The interaction is computerized and can be changed in light of the ideal biscuit attributes.
Q. What are the benefits of utilizing biscuit making machines?
Ans: Biscuit making machines offer benefits like expanded creation proficiency, steady item quality, diminished difficult work, versatility, and the capacity to deliver an assortment of biscuit types with accuracy.
Q. Are these machines adjustable for various biscuit shapes and sizes?
Ans: Indeed, numerous biscuit making machines are intended to be flexible and adaptable. They frequently accompany different molds, cutters, and settings that consider the development of various biscuit shapes, sizes, and examples.
Q. Could biscuit making machines handle various kinds of mixture?
Ans: Biscuit making machines are intended to deal with different kinds of batter, including sweet, exquisite, and even sans gluten mixture. The batter's consistency and recipe could should be changed in accordance with suit the machine's details.
Q. What is the creation limit of these machines?
Ans: Creation limits shift generally founded on the size and kind of machine. Limited scope machines could deliver a couple hundred kilograms of biscuits each hour, while bigger modern machines can create a few tons each hour.
Q. How are the machines cleaned and kept up with?
Ans: Biscuit making machines need standard cleaning and support to guarantee legitimate cleanliness and execution. They commonly have removable parts that can be cleaned independently. Normal upkeep incorporates grease, assessment, and tending to any mileage.
Q. Are biscuit making machines easy to use?
Ans: Indeed, current biscuit making machines frequently accompany easy to use points of interaction and control boards. Administrators can screen and change different boundaries like mixture consistency, cutting shapes, baking temperatures, and that's only the tip of the iceberg.
Q. Are biscuit making machines reasonable for little bread kitchens?
Ans: Biscuit making machines are accessible in different sizes, and a few more modest models are reasonable for limited scope pastry shops. It's fundamental to pick a machine that matches the creation volume and necessities of the pastry kitchen.
Q. Do biscuit making machines save energy?
Ans: Proficient plan and control frameworks in current biscuit making machines can assist with saving energy contrasted with customary manual techniques, particularly in enormous scope creation.
Q. Could biscuit making machines produce without gluten or sans allergen biscuits?
Ans: Indeed, some biscuit making machines can deliver sans gluten or without allergen biscuits. Notwithstanding, it's fundamental to guarantee that the machine and its parts are appropriately cleaned and disinfected to forestall cross-defilement.