Cake Baking Tunnel Oven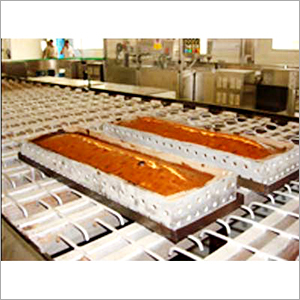 Cake Baking Tunnel Oven
Product Description
We would like to introduce ourselves as a successful manufacturer and supplier of Cake Baking Tunnel Oven. Driven by electricity, this baking oven is also suitable for baking all sorts of breads and biscuits. Its thick stainless steel made frame is protected against high temperature and distortion due to over heating. The advanced PLC controlling panel of this equipment is effective for its trouble free baking mechanism. The special attributes of this equipment are its energy efficient operating system, application specific design and low maintenance cost.
Cake Baking Tunnel Oven Features:
1. Specific Design
2. Low maintenance Cost
Cake Baking Tunnel Oven Specifications:
1. Capacity: 1000-2000 Kg
2. Air-Flow Direction: Duel Air Flow
3. Display: Digital
4. Material: Mild Steel (Body)
5. Max Temperature: 100-350 Degree Centigrade
6. Automation Type: Fully Automatic
7. Frequency: 50 Hz
How does Cake Baking Tunnel Oven work?
A Cake Baking Tunnel Oven is a specialized type of oven designed for baking cakes on a large scale, often in commercial baking operations. It consists of a continuous conveyor belt system that moves the cake pans or trays through various temperature zones to achieve consistent and efficient baking. Here's how it generally works:
1. Loading Zone: Cake batter is poured into pans or trays and placed onto the conveyor belt at the beginning of the oven.
2. Preheating Zone: The cakes pass through a preheating zone where they are exposed to moderate heat. This helps to set the structure of the cakes quickly, ensuring they rise properly and maintain their shape as they progress through the oven.
3. Baking Zone: The conveyor belt moves the cakes through the main baking zone, which is divided into different temperature zones. These zones are designed to gradually increase the temperature as the cakes move through the oven. This gradual temperature increase allows the cakes to rise evenly, develop their flavors, and achieve the desired texture.
4. Steam Injection: Some tunnel ovens have steam injection capabilities. Steam is injected into the oven to create a humid environment at the beginning of the baking process. This helps to promote proper crust formation and enhances the color and texture of the cakes.
5. Convection and Radiant Heat: The oven uses a combination of convection and radiant heat to bake the cakes. Convection involves the circulation of hot air around the cakes, ensuring even baking. Radiant heat comes from heating elements located above and below the conveyor belt, which helps to achieve the desired browning and caramelization on the cakes' surfaces.
6. Monitoring and Control: Modern tunnel ovens are equipped with sensors and control systems to monitor and regulate temperature, humidity, and baking time. This ensures that the cakes are baked consistently and according to the desired specifications.
7. Cooling Zone: After the cakes are fully baked, they move through a cooling zone. In this zone, the cakes are exposed to ambient temperature or cool air to prevent them from overcooking and to allow them to set properly.
8. Unloading Zone: Once the cakes have cooled down sufficiently, they are automatically unloaded from the conveyor belt. They can then be further processed, decorated, or packaged as needed.
FAQ:
Q: What is a cake baking tunnel oven?
A: A cake baking tunnel oven is a large industrial oven designed specifically for baking cakes and other baked goods in a continuous process. It features a conveyor belt system that transports the products through various baking zones, ensuring even and consistent baking.
Q: How does a cake baking tunnel oven work?
A: The cake batter is deposited onto baking trays or molds, which are then placed onto the conveyor belt. The conveyor belt moves the trays or molds through different temperature zones within the oven. These zones include preheating, baking, and sometimes cooling. The controlled movement through these zones ensures that the cakes are baked uniformly.
Q: What are the advantages of using a tunnel oven for cake baking?
A: Tunnel ovens offer several advantages, including high production capacity, consistent baking results, reduced labor requirements, and energy efficiency. They are designed to handle large batches of cakes in a continuous manner, making them suitable for commercial bakeries.
Q: What types of cakes can be baked in a tunnel oven?
A: Tunnel ovens can be used to bake a wide variety of cakes, including sponge cakes, pound cakes, chiffon cakes, and some types of layer cakes. However, intricate and delicate cake designs might not be suitable for tunnel ovens, as the continuous conveyor system could potentially distort the decorations.
Q: How is temperature controlled in a cake baking tunnel oven?
A: Tunnel ovens have multiple temperature zones, each equipped with its own heating elements and controls. These zones are carefully calibrated to provide the right temperature for different stages of the baking process, such as initial baking, setting the cake structure, and finishing.
Q: Can tunnel ovens accommodate different cake sizes and shapes?
A: Yes, tunnel ovens are designed to accommodate various cake sizes and shapes. The conveyor belt system can be adjusted to handle different tray sizes and layouts, allowing for flexibility in production.
Q: How important is ventilation in a tunnel oven?
A: Ventilation is crucial in tunnel ovens to ensure consistent air circulation, which promotes even baking and prevents hotspots. Proper ventilation also helps remove excess moisture, which is essential for achieving the desired texture and appearance of the cakes.
Q: Are tunnel ovens suitable for small bakeries?
A: Tunnel ovens are generally more suited for larger commercial bakeries due to their high production capacity and continuous operation. Smaller bakeries might find tunnel ovens to be more complex and expensive than conventional batch ovens.
Q: What maintenance is required for a cake baking tunnel oven?
A: Regular maintenance is important to ensure the longevity and efficiency of a tunnel oven. This includes cleaning the oven components, inspecting and replacing worn-out parts, and checking the conveyor system for any issues.
Q: Can tunnel ovens be used for gluten-free or specialized cakes?
A: Yes, tunnel ovens can be used to bake gluten-free or specialized cakes. However, adjustments to the baking process, temperature profiles, and conveyor settings might be necessary to accommodate the unique characteristics of these cakes.