Rusk Baking Tunnel Oven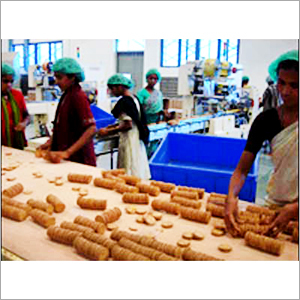 Rusk Baking Tunnel Oven
Product Description
Based in Kolkata, we are reckoned as a prestigious manufacturer and supplier of wide range of biscuit making machinery like Rusk Baking Tunnel Oven. Featured with stainless steel body, this biscuit baking tunnel consists of specially developed firing chamber with automatic burner and temperature adjusting components. This chamber is insulated with thick mineral wool from all sides to avert heat loss during baking process. The radiators of this chamber is useful for uniform heat distribution purpose. The mild steel made fans of this equipment is known for their noise and vibration free functioning.
Rusk Baking Tunnel Oven Features:
1. Uniform Heat Distribution
2. Heat loss during baking process
Rusk Baking Tunnel Oven Specifications:
1. Capacity: >3000 kg
2. Air-Flow Direction: Duel Air Flow
3. Display: Digital
4. Material: Stainless Steel
5. Voltage: 440 V
6. Max Temperature: 300 degree
FAQ:
1. What is a Rusk Baking Tunnel Oven?
Ans: A Rusk Baking Tunnel Oven is a kind of modern oven utilized for baking rusks, which are two times prepared bread or roll items. These ovens are intended to give steady and controlled heat all through a tunnel-like chamber, taking into consideration proficient and, surprisingly, baking of huge amounts of rusks.
2. How does a Tunnel Oven function?
Ans: Tunnel ovens are planned with a transport framework that moves the item through a long, encased chamber. The oven is separated into a few zones, each with its warming components and temperature controls. As the items travel through the tunnel on the transport line, they are presented to various temperature zones to go through different phases of baking.
3. What are the advantages of involving a Tunnel Oven for rusk baking?
Ans: Tunnel ovens offer a few benefits, including:
a. Productive utilization of room because of the transport framework.
b. Steady and uniform baking outcomes across the whole cluster.
c. High creation limit, making them reasonable for enormous scope tasks.
d. Exact command over temperature and baking circumstances in various zones.
4. How would I control the baking system in a Tunnel Oven?
Ans: Tunnel ovens accompany progressed control frameworks that permit you to set and change temperature, transport speed, and different boundaries for each zone. This control guarantees that the rusks get the suitable intensity therapy at each phase of baking.
5. Might I at any point tweak baking profiles for various rusk recipes?
Ans: Indeed, most present day tunnel ovens permit you to make and store different baking profiles. This implies you can change the temperature, transport speed, and different settings to match the particular necessities of different rusk recipes.
6. What support is expected for a Tunnel Oven?
Ans: Ordinary support is vital for keep the tunnel oven working proficiently. This might incorporate cleaning of the inside, transport framework, and warming components. It's additionally essential to investigate and supplant any exhausted parts to guarantee steady execution.
7. Are there wellbeing highlights set up?
Ans: Indeed, tunnel ovens normally come furnished with wellbeing highlights like temperature sensors, overheat security, crisis shut-off instruments, and legitimate ventilation frameworks to guarantee the wellbeing of administrators and forestall mishaps.
8. Could I at any point get specialized help and help?
Ans: Most producers offer specialized help and help to assist with establishment, investigating, and support of their tunnel ovens. You ought to have the option to contact their client care for any questions or concerns.